European markets end lower
Investors are being rather cautious ahead of Thursday's UK election, ECB meeting and the testimony by ex-FBI boss James Comey. So most stock markets have fallen back again, while the dollar has hit a seven month low. Oil has recovered some of its early losses after the latest tensions in the Middle East, with Brent crude edging up 0.2% to $49.57 a barrel having fallen as low as $49.
The FTSE 100 has ended virtually flat, outperforming the bulk of its European peers, as the latest polls show a Conservative lead. The FTSE 250, hit by weakness in sterling, has lost 1%, its worst daily performance since the middle of April. The final scores showed:
The FTSE 100 edged down 0.81 points or 0.01% at 7524.95
The FTSE 250 fell 1.08% to 19,654.84
Germany's Dax dropped 1.04% to 12,690.12
France's Cac closed down 0.73% at 5269.22
Italy's FTSE MIB finished up 0.19% at 20,760.01
Spain's Ibex ended down 0.05% at 10,879.7
In Greece, the Athens market dropped 1.15% to 777.53
On Wall Street, the Dow Jones Industrial Average is currently down 21 points or 0.1%.
On that note, it's time to close for the day. Thanks for all your comments, and we'll be back tomorrow.
One of the big events on Thursday is the latest meeting of the European Central Bank, with president Mario Draghi expected to make a minor shift in the tone of the bank's message. Marchel Alexandrovich, senior European economist at Jefferies, said:
On Thursday the ECB is widely expected to change some of the language around its forward guidance, but the implications of these changes are likely to be downplayed by Mario Draghi during the Q&A session.
In the last two meetings the ECB hinted that a further cut to the depo rate was unlikely – and we expect this position to be formally confirmed in the Monetary Policy Decisions statement. However, the shift to a more neutral policy stance with regards to interest rates will not affect the ECB's other key messages: the depo rate will remain at present level until after QE comes to an end; and QE will carry on until the end of the year "or beyond, if necessary".
All in all, the take-away is expected to be that while the ECB is taking a small step toward eventual policy normalisation, this process is not on a predetermined path. For the markets, Draghi is unlikely to provide any useful guidance in terms of when tapering may start, or what form it may take.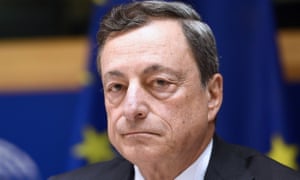 Here's the Reuters take on the US job openings figures:
U.S. job openings surged to a record high in April while hiring slowed, suggesting a recent moderation in job growth was the result of employers having difficulties finding qualified workers.
The monthly Job Openings and Labor Turnover Survey, or JOLTS, released by the Labor Department on Tuesday showed there were 6.0 million job openings on the last day of business in April, an increase of 259,000 from March. Hiring decreased by 253,000 jobs to 5.1 million.
Investors are shying away from risk at the moment, with precious metals and defensive shares reaping the benefit.
Gold is at its highest level in seven weeks, up $14 to $1293 an ounce, while silver is up from $17.54 to $17.68 an ounce. Jasper Lawler, senior market analyst at London Capital Group, said:
There has been a clear shift into haven trades to protect against any fireworks following key events on Thursday. Brits heading to the polls, central bankers deciding interest rates in Europe and testimony from FBI Director Comey all pose a threat. With three big events clustered in one day, it only takes one to go way to set things off.
Stocks mostly retreated with a tendency for more defensive areas of the market to outperform. Utilities, a typical haven when staying invested in stocks rose over half-a-percent on the Euro Stoxx 600 while most other sectors were lower…
A 1% decline in the FTSE 250 while FTSE 100 was essentially flat on the day was notable. Investors appear to be shunning UK domestic shares before the election. Within the broader FTSE 350, retail shares were biggest decliners, which are typically closely tied to the health of the British economy. While a Labour victory remains a distant outlier, polls would indicate a hung parliament is possible. The fear is that with the country entering at least two-years of economic uncertainty because of the Brexit negotiations, higher personal and business taxes under a new government could tip the economy over the edge.