Liam Fox: only politics stands in way of smooth Brexit trade deals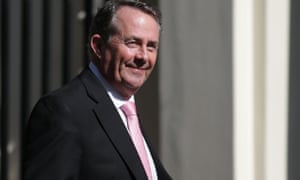 Liam Fox, Britain's international trade secretary, has said there is no reason why the UK can't replicate the current smooth trading agreements it enjoys with the EU after Brexit, unless politics gets in the way.
He told Reuters during a visit to Paris:
We're going into an arrangement with the EU already with zero tariffs , we're going there with complete regulatory equivalence and with customs systems that already work.
The only reason we wouldn't replicate them would be if politics got in the way of good economics.
Fox made the comments a day after the EU's chief Brexit negotiator, Michel Barnier, said London's "red lines" for a future trading relationship meant the UK was definitely leaving the single market and customs union, with consequences.
On that note, we're closing up for the day. Thank you for all your comments and please join us again on Monday. Have a great weekend.
Wall Street higher after strong payrolls report
US markets are up in early trading, with those strong non-farm payrolls numbers giving investors a boost.
Dow Jones: +0.2% at 21,361
The FTSE 100 is also edging higher, up 0.1% or seven points at 7,345. Main markets in the rest of Europe are in the red.
Analysts at Nomura said the stronger-than-expected payrolls number is good for riskier assets.
Equities, EM and high yielders should like it. Higher job creation indicates growth, but weak wages indicates firms are not yet allowing the labour force to reduce margins = higher profitability.
It shouldn't bear too much of an impact on the Fed timing of balance sheet reduction as this is an overall good number.
So it shouldn't lead to fresh impetus on USD selling in USD/JPY. But given this is good for growth and the ECB normalisation is a far more potent animal at these levels, the markets initial reaction to buy EUR/USD on the dip is something we would agree with.
Paul Ashworth, chief US economist at Capital Economics, says the jobs reports is more evidence that the real economy is in "good health".
The only disappointment is that wage growth still shows few signs of accelerating. Average hourly earnings increased by 0.2% m/m in June, but the annual growth rate only edged back up to 2.5%, from 2.4%. That means there has been no pick-up in wage growth whatsoever over the past 18 months.
We will find out what Fed Chair Janet Yellen thinks of this next week, during her semi-annual congressional testimony. Our view is that, despite the lack of a pick-up in wage growth and core inflation, the Fed will nevertheless push ahead with hiking interest rates. The unemployment rate is already unusually low and is likely to fall further over the coming months.